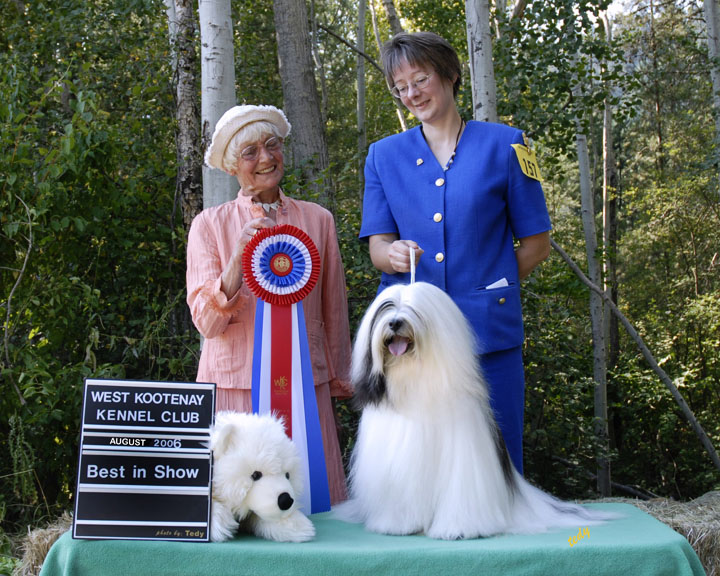 Overview
Conformation shows are often simply referred to as dog shows. Each breed has what is called a breed standard that defines what the perfect example of that breed should look and move like. Judges examine each dog both standing and moving and then select their winners based on their understanding and interpretation of the standard.
Breeds are divided into groups defined by the Canadian Kennel Club. There are seven groups: Sporting, Hounds, Working, Terriers, Toys, Non-Sporting and Herding. Tibetan Terriers are in the Non-Sporting group.
Judging process
Judging begins at the breed level where there are a number of different classes. Males and females are judged separately. The winner of each class competes for "Winners Male" and "Winners Female". These winners then come back into the ring with dogs in the champion (Specials) class to compete for Best of Breed, Best of Opposite Sex, Select and Best of Winners.
The best of breed winners then complete against the other breeds in their group. The judge select placements from First through Fourth. The winners of each group then compete for the top honour of Best in Show and Reserve Best in Show.
Eligibility
Be individually registered with the Canadian Kennel Club
Be 6 months of age or older (there is also an unofficial baby puppy class for puppies age 4-6 months)
Must be intact although some shows do have classes for altered dogs.
Tibetan Terriers are shown naturally so must not be trimmed or clipped.
Titles
In Canada there are a number of titles that can be earned starting with Champion. To become a champion a dog must earn a total 10 points including a 2-point win. These points must be awarded by at least three different judges. The number of points earned is based on how many dogs were competing. Championship points can be earned at either the breed level or the group level. A dog can earn a maximum of five points per show.
The next title is Grand Champion where a dog must compete in the Specials class. They must earn at total of 20 points including two 2-point wins. In July 2021 the Canadian Kennel Club launched the Grand Champion Bronze (50 points), Grand Champion Silver (100 points) and Grand Champion Gold (200 points) titles. They also modified the previous Grand Champion Excellent title. Dogs that were already accumulating wins towards their Grand Champion Excellent title have until July 2022 to earn the title based on the old criteria.
Grand Champion Excellent requires a dog to first earn the Grand Champion title. They then need 100 points based on the schedule below, Best in Show or Best in National Specialty Show (where at least 10 dogs competed), three Group Firsts, plus a qualifying performance title. 
Best of Breed (with minimum 5 dogs competing at breed level) 1 point
Best In Show or Best in National Specialty 10 points
1st in Group 5 points
2nd in Group 4 points
3rd in Group 3 points
4th in Group 2 points