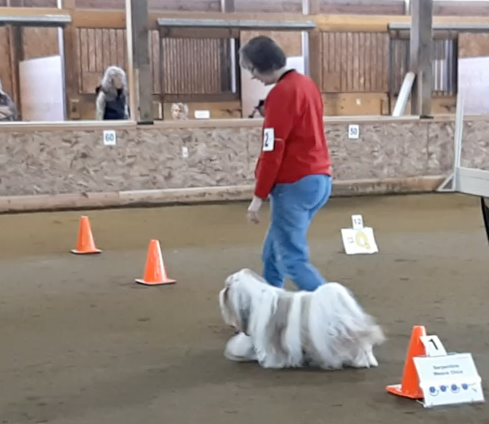 Overview
Rally Obedience is often referred to as just Rally. It is a more casual form of obedience that is fun for both dogs and handlers. The judge will prepare a course that contains between 10-20 skill-testing stations. Each station on the course has a sign that indicates what exercise must be performed. The exercises become more difficult as you progress through the levels. All exercises for Rally Novice and Rally Intermediate are performed with the dog on leash. All other levels are off leash. Handlers may talk to their dogs throughout the course.
Judging process
Prior to each class there is a walk-through where handlers get an advance look at the course without their dogs. Then each dog and handler team in the class will complete the course individually at their own pace. Rally is not scored with the same level of precision as obedience however judges will make deductions based on any faults they observe.
Eligibility
Be individually registered with the Canadian Kennel Club
Be 6 months of age or older
Spayed or neutered dogs may compete
Titles
In Canada there are a number of titles that can be earned starting with Rally Novice. In order to qualify a dog and handler must earn a minimum of 70 points on each course for Rally Novice (RN), Rally Intermediate (RI), Rally Advanced (RA) and Rally Excellent (RE) title. The Rally Master (RM) title requires a minimum of 85 points on a course. Three qualifying scores must be earned for each title.
There are also additional titles that require qualifying scores in multiple classes at the same trial. These are Rally Advanced Excellent (RAE), Rally Master Excellent (RMX), Rally Champion (RCH) and Rally Grand Champion (RGCH)